Broiler hatchery data, released weekly by USDA National Agricultural Statistics Service (NASS), reflects optimism, running 3 percent above a year ago in the number of eggs set for the last several weeks. Chicks placed are also above a year ago, and year-to-date are up 1.5 percent. Figure 1 shows 2017 compared to 2016 in the number of eggs set and chicks placed. Poultry slaughter has not increased at the rate hatchery data would suggest. According to USDA's monthly Poultry Slaughter covering data through April 2017, broiler production is up 0.8 percent in ready to cook categories but April production figures show a sharp decline relative to the previous month. However, April had one less slaughter day in 2017 than in April 2016, explaining the sharp decline.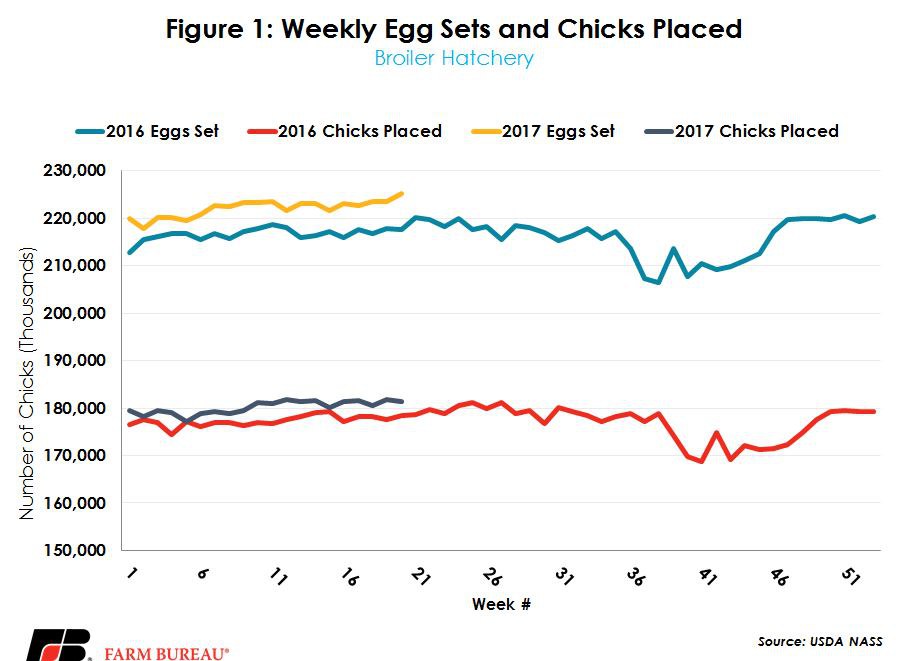 Although one less slaughter day does explain some of the changes in production relative to last year, there is another factor to consider. The high volume of chicks placed still misaligns to the slight increase in production, which is in part a result of important changes to bird weights. Last year, bird weights jumped substantially, remaining 5 to 7 percent above the five-year average for most of the year and averaging about 1 percent over the prior year. This year, weights have not seen those types of gains and are running closer to 2015 figures than 2016. Through 19 weeks of the year bird weights have moderated from the anomaly of last year. Broiler weights are down 1 percent compared to 2016 at a bird size of 6.13 pounds on a live-weight basis. Figure 2 shows the change in bird weights. Seasonally, bird weights are expected to rise in the second half of the year as a function of housing and technology better equipped to handle fall and summer weather. However, time will tell what moderating bird weights will look like relative to last year's third and fourth quarters.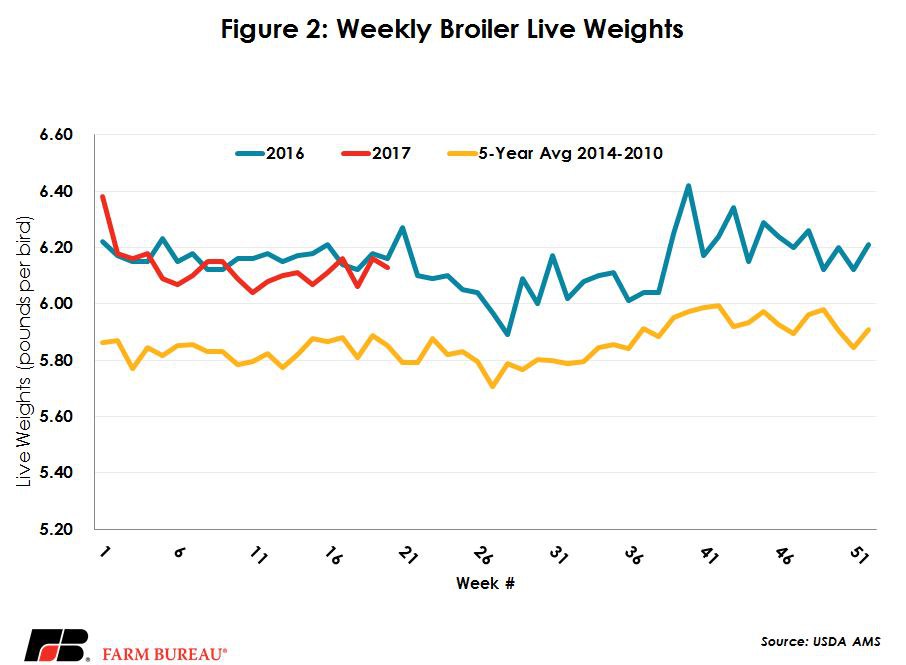 Demand has been strong for U.S. broilers so far this year. The U.S. poultry complex has benefited from few Avian Influenza cases here, while several supply disruptions have affected global markets in 2017. High incidents of avian influenza in Europe and Asia and the Brazilian meat scandal disrupted global trade flows. As a result, the U.S. has been able to expand its poultry reach to countries that have been historically served by other markets. The net result has been an increase in broiler exports of 12 percent in March and 9 percent year to date. The increased demand and lower feed costs have put positive pressure on broiler margins through the first four months of the year. Brazil and the European Union are expected to come back online in the second half of the year and try to regain market share lost to the U.S.