Previous American Farm Bureau Federation analyses highlighted disaster-related losses and corresponding policy hurdles farmers and ranchers faced in 2020. The first showed that farmers and ranchers had more $6.5 billion in crop and rangeland losses from 2020 natural disasters; over $3.6 billion, or 55%, of those losses were not covered by existing Risk Management Agency (RMA) programs. The second discussed the gaps and challenges in previous disaster aid legislation, particularly the Wildfire and Hurricane Indemnity Program Plus (WHIP+), which have left some producers unsupported when disaster strikes. Today's article highlights the recent expansion of coverage signed into law as part of H.R. 5305, the Extending Government Funding and Delivering Emergency Assistance Act, more widely known as the continuing resolution (CR).
2020 brought 22 separate billion-dollar weather events to the doorsteps of farmers and ranchers nationwide. With severe drought, fast spreading wildfires, ice storms and hurricanes, 2021 is likely to rival its predecessor in economic impacts to agriculture. In 2018 and 2019, crop losses associated with qualifying weather disasters were partially mitigated by WHIP+, a disaster assistance program with origins in the 2017 WHIP, which provided financial assistance to producers with disaster-related production losses on both insured and non-insured crops (Reviewing WHIP+ and Other Disaster Assistance Programs). In its prior authorized form, WHIP+ eligibility was linked to counties that received qualifying presidential emergency disaster declarations or USDA secretarial disaster designations due to severe qualifying events and their related conditions. Certain storm types and weather conditions such as derechos, D2 (severe) drought, smoke exposure in grapes (smoke taint), and hailstorms were not explicitly listed as qualifying weather disasters under WHIP+.
On Sept. 30 President Biden signed the CR into law, retroactively extending disaster assistance programs, including WHIP+, the On-Farm Storage Loss Program, Milk Loss Program and Tree Assistance Program, through 2020 and 2021. The law appropriates $10 billion out of the treasury to the office of the secretary of Agriculture for these programs. This amount is 2.7 times the estimated value of uncovered crop losses in AFBF analyses for 2020, likely adjusting for expected losses during 2021. Additional causes of loss explicitly covered under the CR include derechos, winter storms, polar vortexes, freeze, smoke exposure and quality losses for crops. Losses due to drought are also eligible if they occurred in areas rated by the U.S. drought monitor as D2 (severe) for eight consecutive weeks or D3 (extreme drought) or higher at anytime during the applicable calendar year. Since July, over 70% of the Western U.S. plus the Dakotas have been rated as D2 or higher – qualifying a large portion of drought-related losses. The CR also reiterated that previously covered conditions such as excessive heat and excessive moisture, hurricanes and wildfires would continue to qualify for assistance. Furthermore, $750 million is also set aside for livestock losses related to wildfire and drought during 2021, as determined by the secretary of Agriculture. These additions will be welcome news to farmers and ranchers working to recover from years of disaster conditions.
Some conditions brought to AFBF's attention from farmers and ranchers were not explicitly listed in the CR legislation. One example is a stand alone or leading tropical storm/depression. The prior WHIP+ handbook states, "A tropical storm intensifies to become a named hurricane. The named hurricane's path later becomes a tropical storm and a tropical depression. Only losses from the named hurricane and the subsequent tropical storm and subsequent tropical depression would be eligible." In other words, losses from the preliminary tropical storm are not eligible. Another example: "A wildfire occurred in September. Subsequent rains caused a mudslide in November which destroyed the crop. The mudslide is not a related condition of the wildfire and therefore the loss is not eligible." Wildfires notoriously destroy vegetation that help hold soil in place and often lead to mudslides and debris flow events. Farmers and ranchers will likely question if some of these specifications will remain when a 2020/2021 WHIP+ handbook becomes available.
Notably, one of the primary complaints with past iterations of WHIP+ was (a lack of) timeliness and efficiency in distributing payments. The CR allows for 1% of appropriated funds to be used for "administrative costs; including streamlining the application process," which may result in faster payment times. That said, reports of widespread labor shortages in Farm Service Agency offices have reduced confidence that payments will be made quickly. The CR retains existing payment limitations from WHIP+ that restricted producers to $125,000 for the 2018, 2019 and 2020 crop years if their average adjusted gross farm income (AGI) was less than 75% of their adjusted gross income for 2015, 2016 and 2017. If 75% of a producer's AGI was received from ranching, farming or forestry, up to $250,000 could be received in WHIP+ payments, with a total combined payment limitation of $500,000. Total payments under extended disaster relief and existing crop insurance policies including the Noninsured Crop Disaster Assistance Program (NAP) will not exceed 90% of losses (after any premiums or paid fees). The requirement for recipients to purchase crop insurance or NAP coverage (when crop insurance is not available) for the next two available crop years remains.
Crops intended for grazing (rangeland) are not explicitly eligible for payments under the CR legislation. AFBF's crop loss estimates calculated over $1.6 billion in uncovered rangeland losses due to 2020 disasters. That said, on Sept. 8 USDA announced an update to the Emergency Assistance for Livestock, Honey Bees and Farm-Raised Fish Program (ELAP) to "immediately" cover feed transportation costs for drought-impacted ranchers. The same drought classification of D2 drought intensity for eight consecutive weeks or D3 or higher are necessary to qualify. Eligible ranchers will be reimbursed for 60% of feed transportation costs above what would have been incurred in a normal year. A formula established by USDA will be used to determine payments, which will not include the first 25 miles or distances exceeding 1,000 miles. A rate of $6.50 per mile will be used as a basis for the initial 2021 formula - before the 60% rate is applied and any regional adjustments. The deadline to file an application for payment under the 2021 ELAP program year is Jan. 31, 2022. In AFBF's Assessing Western Drought Survey, nearly 50% of respondents to the June survey reported traveling long distances to acquire feed and forage as extremely prevalent in their area, with many comments describing crossing entire states to access feed. Sixty-six percent of participants also reported increases in local feed costs as extremely prevalent. A combination of existing RMA programs may assist against forage and rangeland losses - though limited participation has often prevented access to assistance.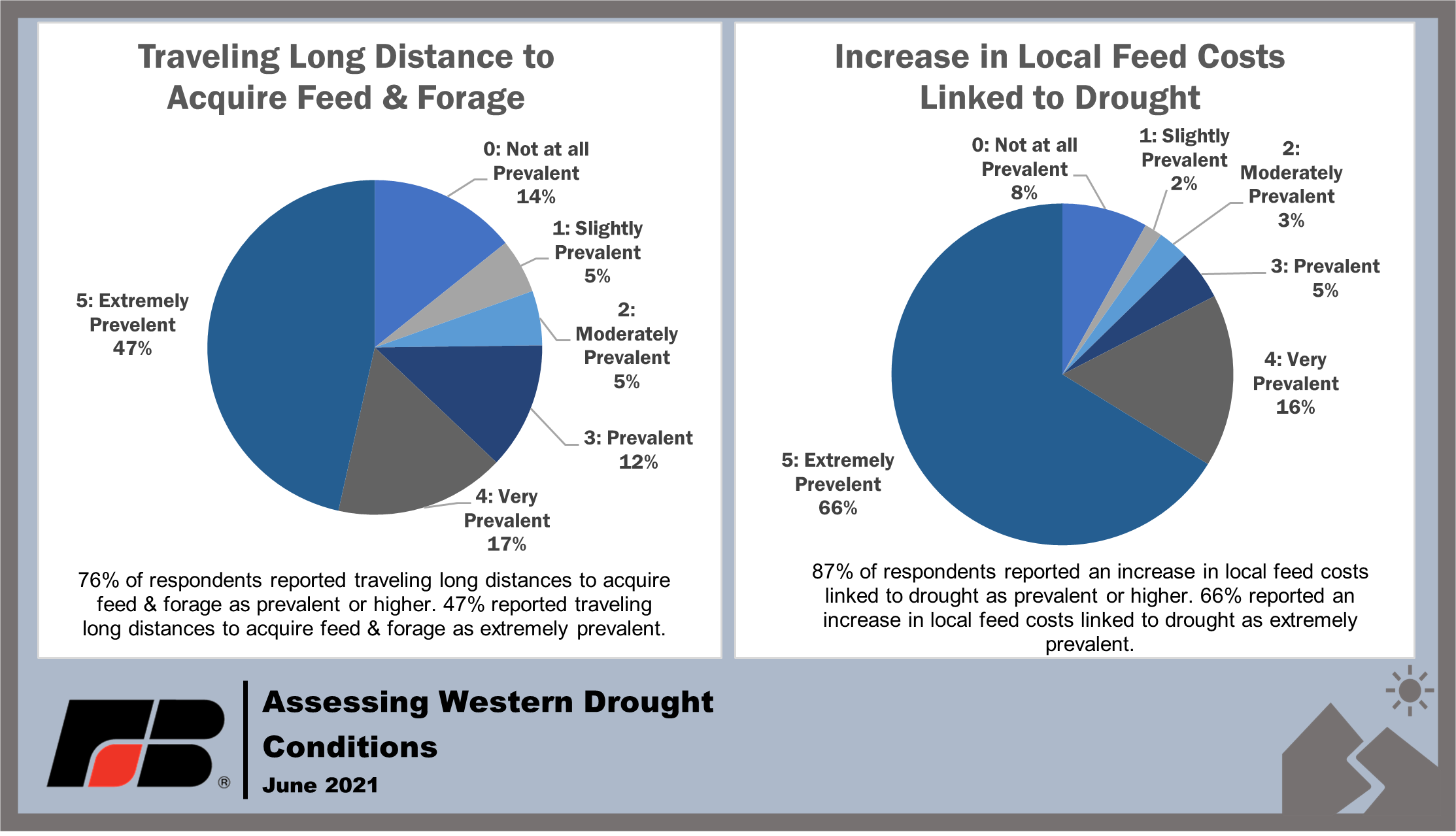 Conclusion
A recent extension of disaster assistance and associated coverage for additional weather-related conditions is welcome news to farmers and ranchers recovering from 2020 and 2021 disasters. The $10 billion appropriated in the CR for both years surpasses uncovered crop loss estimates previously analyzed by AFBF - though final 2021 impacts remain unassessed. The addition of derechos, winter storms, D2 drought (after eight consecutive weeks) and smoke exposure provides a wider range of producers with assistance options. It is unclear if all gaps in the program have been addressed and farmers and ranchers will be closely monitoring the accessibility of the revised disaster programs for their operation. Emphasis on timeliness and efficiency should be of highest importance to USDA. Ensuring WHIP+ and disaster assistance extensions provide adequate support is vital – not only for farm-level stability but for a safe and secure domestic food supply.