Rural broadband is a critical pathway to global markets for agriculture and other industries. Farmers and ranchers depend on broadband, just as they do highways, railways and waterways, to ship food, fuel and fiber across the country and around the world. High-speed internet service has become a requirement for tapping into health care and educational services, government agencies and new business opportunities. According to the Federal Communications Commission, 39 percent of rural Americans lack access to broadband service, compared to only 4 percent of urban Americans. However, the share of U.S. cropland and rangeland acres that are without broadband is likely significantly underreported, due to the way the statistics on connectivity are compiled. Here, we explore Brown County, South Dakota, as an example.
According to USDA's Economic Research Service, Brown County was South Dakota's highest-grossing agricultural county. According to the last Census of Agriculture, the farmers and ranchers in Brown County had more than half a million dollars in agricultural sales, 89 percent of which was derived from crop sales and accounted for more than 5 percent of South Dakota's total agricultural production. The top crops in Brown County were soybeans, corn and wheat. To maximize production, the farmers who grow these crops rely on advanced technology like GPS. According to the Census of Agriculture, the 1,056 farms in Brown County, which is predominantly cropland, covered more than 850,000 acres.
According to the FCC data, the population of Brown County is 38,998, of which 32 percent, or 12,390 people, is considered rural. The vast majority of the urban population of Brown County resides in Aberdeen, the county seat and the third most populous city in South Dakota. Aberdeen stands out on Map 1, which comes from the FCC website and highlights the number of broadband suppliers in each county. Broadband is defined as any technology (ADSL, cable, fiber, fixed wireless, satellite, other) that provides internet download speeds of at least 25 mbps and upload speeds at least as high as 3 mbps. (For context, at my desk in Washington, D.C., I use internet with a download speed of 940 mbps and upload speed of 880 mbps.) The darker the color on the map, the higher the number of providers.Yellow indicates zero providers; light green is one provider; teal is two providers; and the blues are three or more providers, depending on the degree of darkness of the color.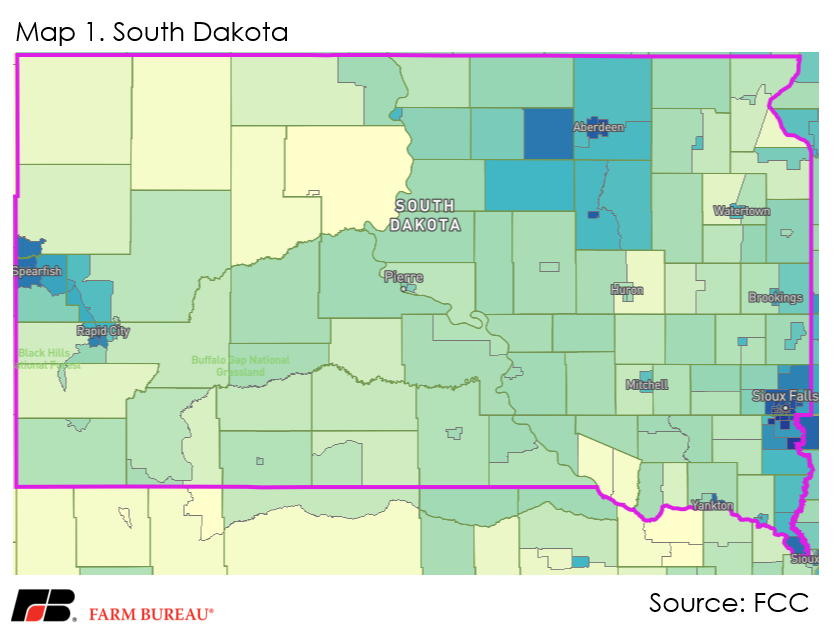 In Map 2, we zoom in closer on Brown County to find that unsurprisingly, the city of Aberdeen has a higher level of connectivity than the rural areas of Brown County, but that the vast majority of Brown County has access to broadband, as indicated by the teal and blue colors. Further, of that rural population, again, according to FCC data, more than 98 percent has access to broadband internet. The FCC's stats on the level of rural access to broadband are usually at the county or census-area level.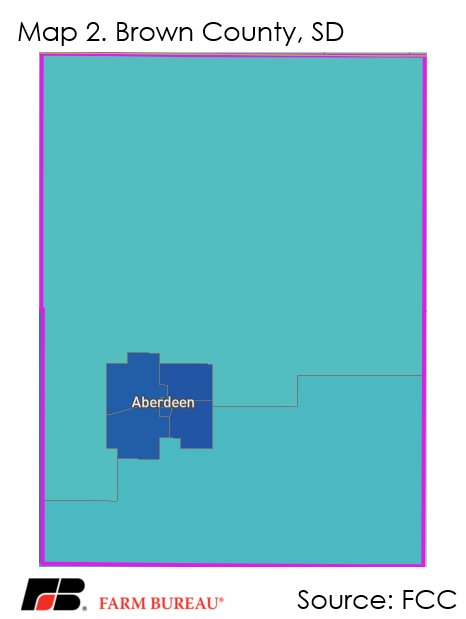 However, things get more interesting when we zoom in closer. In Map ,3 we take a look at the upper two-thirds of Brown County and quickly see that the level of broadband coverage varies dramatically, even at the county level. From this map we see that a large portion of the land in northwest Brown County lacks access to broadband.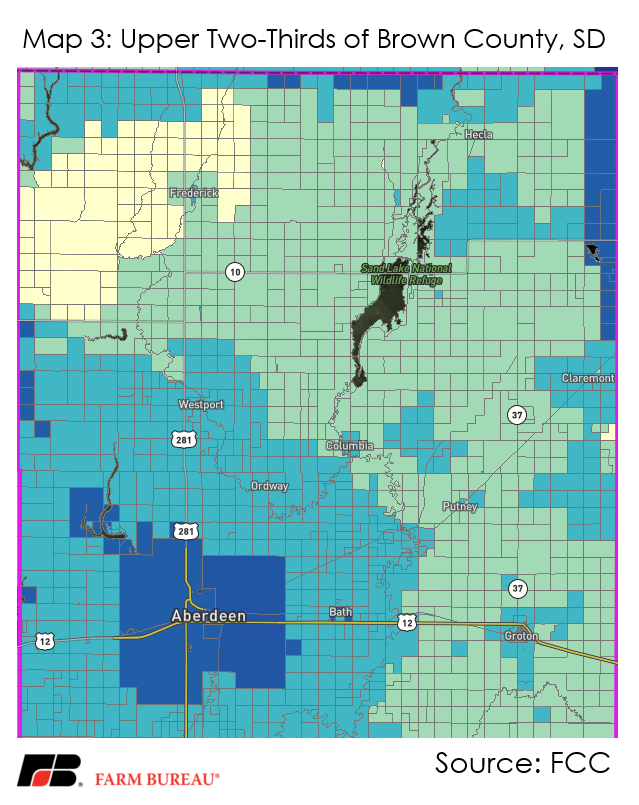 Maps 4 and 5 are a closer view of the northwest portion of Brown County. Map 4 shows the variability in broadband coverage around Frederick, South Dakota. Map 5 is the same area around Frederick, but in satellite view, which quickly reveals that there are many cultivated acres within the portion of northwest Brown County that lacks broadband access. This lack of access makes it more difficult for farmers to utilize many of the latest, yield-maximizing farming techniques because they require broadband connections for data collection and analysis performed both on the farm and in remote data centers. Moreover, it puts farmers in this area at a distinct disadvantage compared to other farmers within Brown County who have access to broadband. Long-term, lack of access to broadband could have a negative impact on farmland prices.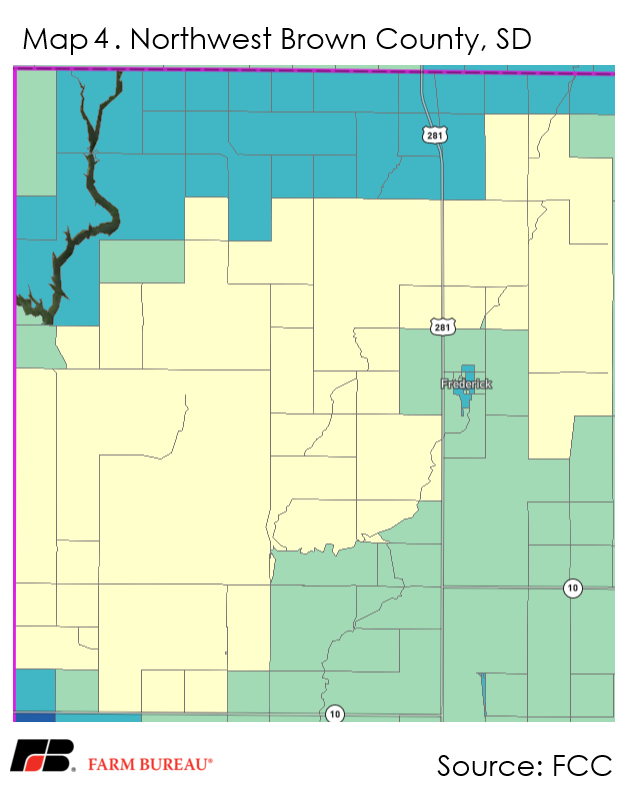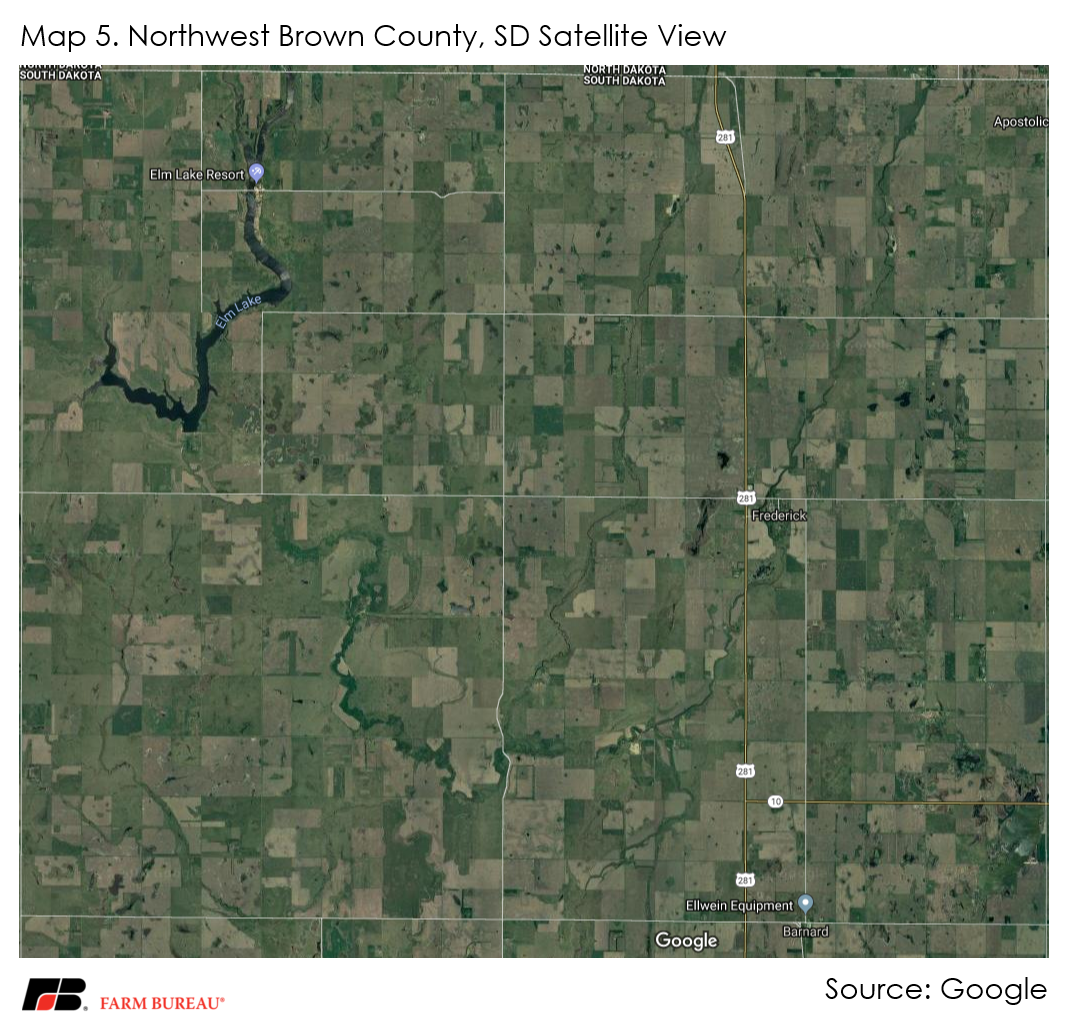 The wide variety of broadband coverage that we see on display in Brown County, South Dakota, can be seen throughout rural America. Check the variability within your state and hometown by going to the FCC's broadband website. Without improvements, current and future generations of rural Americans will be left behind their fellow citizens if they are without affordable high-speed Internet service.