Historically, the changes in supply and demand that follow updated plantings of major field crops detailed in USDA's survey-based June Acreage report are the focus of the department's July World Agricultural Supply and Demand Estimates. However, this year the attention has shifted to trade policy as the July WASDE is the first forecast to include potential supply, demand and price impacts from retaliatory tariffs on U.S. agricultural products – namely soybeans.
Specifically, USDA considered trade actions that are in place or have had a formal announcement of effective dates as of the time of the WASDE publication. Further, the report also assumed such actions would be in place throughout the entire 2018/19 marketing year.
Changes in Soybean Supply and Demand
Prior to the July WASDE report, USDA had projected 2018/19 Chinese soybean imports at 103 million metric tons, representing 65 percent of world soybean imports. Due to a variety of factors including tariffs on U.S.-sourced soybeans, a subsequent increase in demand for Brazilian soybeans and resulting higher soybean prices in China, USDA lowered China's 2018/19 import volume to 3.5 billion bushels, down 294 million bushels, or 8 percent, from the prior month's estimate.
The primary beneficiary of the tariff on U.S.-produced soybeans is Brazil. Brazil soybean exports during 2018/19 are now projected at a record 2.8 billion bushels – representing an increase of 3 percent, or 75 million bushels, from USDA's June export forecast. Importantly, since China joined the World Trade Organization, Brazilian soybean exports have increased over 400 percent. Continued headwinds in the ability of U.S. growers to supply the Chinese market will only accelerate soybean acreage expansion in South America and other parts of the world.
With China purchasing fewer soybeans on the global market, USDA projects for global soybean trade to decline by 185 million bushels and for global ending stocks to increase by 413 million bushels.
For the United States, not only are farmers losing market share in China, but increases in planted area and favorable growing conditions combined with reduced exports volumes are expected to result in lower consumption, higher stocks and lower prices.
U.S. soybean production is projected at 4.3 billion bushels in 2018/19, up 1 percent from the June estimate based on higher planted acreage from the March intentions. While higher domestic crushing of old-crop is expected to reduce the carry-in, soybean supplies in 2018/19 are projected to be a record-high 4.8 billion bushels. Ample supplies come against a backdrop of a slowdown in U.S. soybean exports. USDA currently projects soybean exports at 2 billion bushels, down 250 million bushels from the June estimate, and the lowest export volume since 2015.
With lower exports and consumption, USDA projects soybean ending stocks at 580 million bushels, up 195 million bushels, or 51 percent, from the June estimate.
Finally, USDA now projects the 2018/19 marketing year average soybean price at $9.25 per bushel, down 75 cents from the June estimate. Combining the expected production volume and the marketing year average price, the farm value of new-crop soybeans is projected at $39.9 billion, down $2.9 billion from last month's estimate.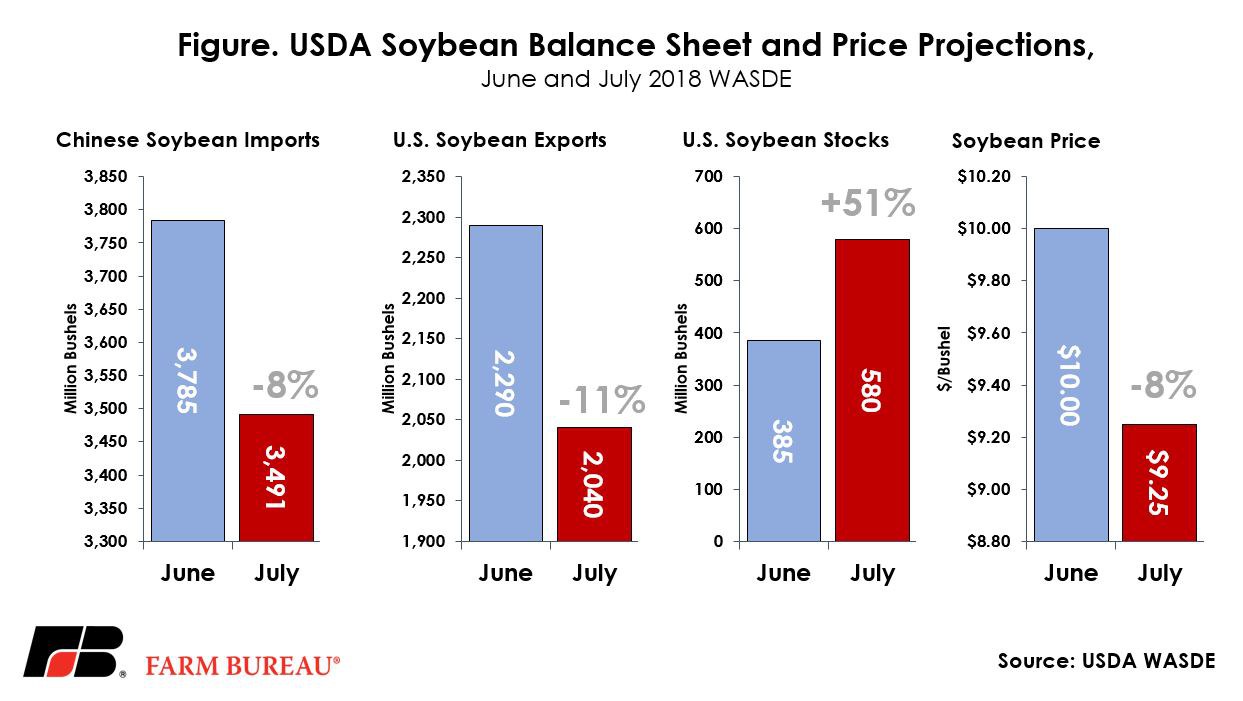 Summary
Plenty of time and uncertainty remains in the soybean complex. Key months of the growing season remain and soybean yields and supplies are far from certain. Additionally, while current USDA projections assume trade actions would be in effect for the full marketing year, the potential remains for a trade resolution prior to harvesters rolling across the Soybean Belt.
Updated expectations that result in lower supplies or higher consumption levels will drive prices higher in the coming months. For now, however, all eyes remain on fundamental indicators such as the weather and the August yield survey. At the same time, farmers across America growing a variety of crops and raising livestock stress urgency in resolving these trade disagreements.