The Livestock Slaughter, Cattle on Feed, Hogs and Pigs, and Cold Storage reports all were released at the end of last week and will be summarized here to cap off Market Intel's 2017 reports. Hope everyone has a wonderful holiday season and we will see you in 2018!
Livestock Slaughter:
Last week's data showed that red meat production was up 1 percent in the month of November. Beef production showed the highest year-over-year growth, up 2 percent, followed by pork and lamb, both up slightly from the year before. Veal production was down 4 percent. Importantly it was noted that November 2016 and November 2017 had the same number of slaughter days. The total for this year is 47.6 billion pounds of commercial red meat production, up 3 percent from 2016 at this time.
These trends are in line with much of what we have seen all year with higher volumes of animals being slaughtered because cattle and hogs have year-over-year higher herds this year. Lamb, on the other hand, was down slightly in terms of total inventory. Lamb weights were slightly higher in November and about 1 pound heavier than last year.
Cattle on Feed:
The Cattle on Feed report held some surprises. The number of placements was expected to come in at 5.1 percent above last year. The actual report showed placements were up 14 percent. Cattle on feed was also outside of estimate ranges, which were 105.6-107.4 percent of year ago, while the number of cattle on feed was actually 9 percent higher. Marketings continued to clip along; they're up 3 percent and in line with estimates.
Significantly higher lighter-weight cattle, under 600 pounds, were placed this November, with an increase of 30 percent. Six hundred- to 699-pound animals placed were up 11 percent, followed by 700- to 799-pound animals, which were 7 percent higher. Prices for lighter-weight animals have been much higher this year, incentivizing producers not to hold over calves. Since October, 500-to 600-pound steers have been more than $25 per hundredweight above 2016. Figure 1 shows the 2016 and 2017 under-600 category.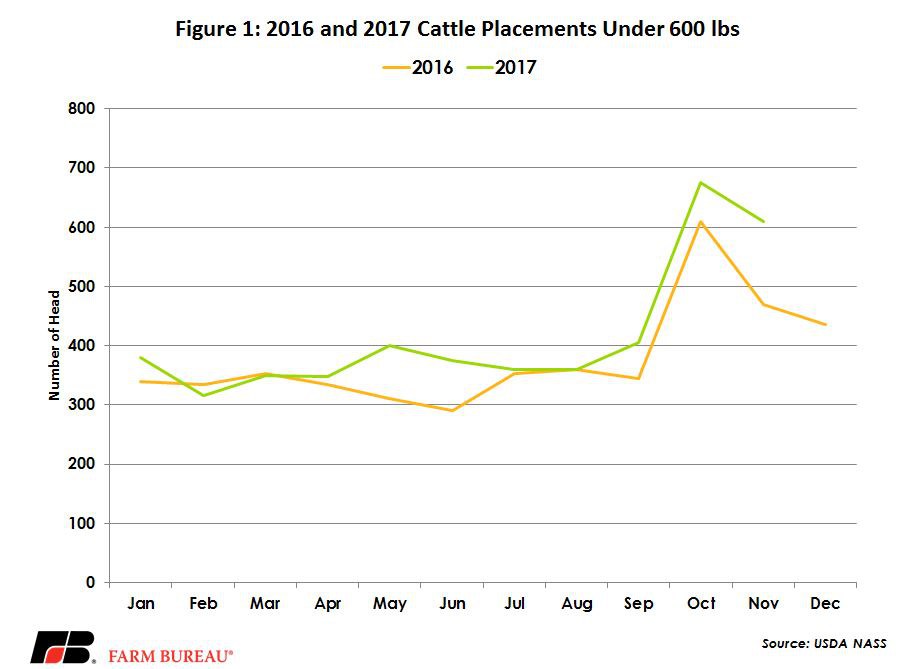 Cold Storage:
Total red meat in inventory was down 4 percent from last year, a good sign with heavy meat supplies having been produced all year. Beef inventory was down 8 percent, followed by pork, which was down 3 percent. Poultry stocks were up 15 percent from a year ago. Chicken showed an increase of 13 percent and turkey stocks were up 22 percent. Veal inventories continued to grow, now reaching 208 percent above November last year, and lamb is up 32 percent.
Pork belly inventory continues to roller-coaster. Last year, pork bellies were in short supply, but their inventories are almost double this year. Figure 2 shows pork belly inventory.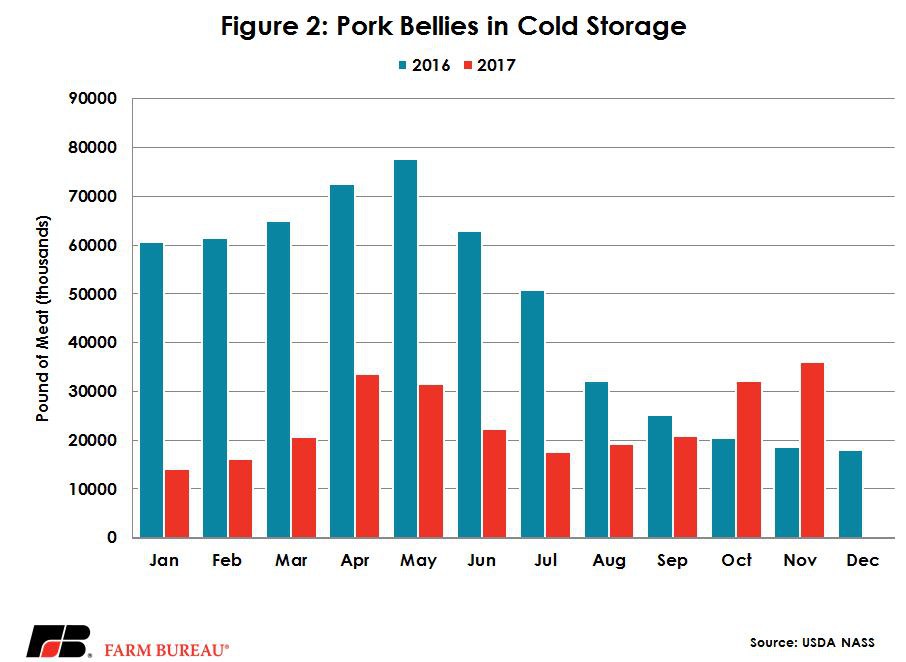 Hogs and Pigs:
The final Hogs and Pigs report of the year came out last Friday showing higher market hog inventory, up 2 percent from last year. The September-November pig crop, at 3 percent, was 1 percent higher than analysts' estimates. Pigs per litter reached a new record high of 10.74 pigs. Producer expectations continue to show a positive outlook on pork demand. Hogs kept for breeding added another 1 percent to last year and sows expected to farrow in December-May was up 2.5 percent.
USDA was also expected to make some revisions to previous reports based on the number of hogs slaughtered. As usual, USDA reviewed all estimates from March 2016 through September 2017. Some significant changes were made to the June report, equaling a net revision downward of .9 percent to total inventory and a 1.5 percent change to the March-May pig crop. The September 2017 all hogs and pigs inventory was revised 0.3 percent lower.