Fourteen student members of Minorities in Agriculture, Natural Resources and Related Sciences have been selected to attend the Farm Bureau FUSION Conference in March as part of a new American Farm Bureau Federation fellowship program.
The conference provides learning opportunities for attendees to increase their knowledge and skills in the areas of leadership development, agriculture issues, professional and personal growth and building a network. It will bring together more than 900 agricultural leaders who are active in three main Farm Bureau program areas – Young Farmers & Ranchers, Women's Leadership and Promotion & Education.
The MANRRS students listed below will attend the conference as Farm Bureau Fellows, with sponsorship support from CoBank.
Alabama – Emon Fowler, Faraluz Ortega and Joshua White; Tuskegee University
Georgia – Christian Miller; Fort Valley State University
Indiana – O. Benjamin Fakunle, Favour Ojike and Hariharan Thirumalai; Purdue University
Mississippi – Mya Dixon; Mississippi State University
North Carolina – Miles Lee, Grace Palmer and Janae Washington; North Carolina A&T University
New York – Mary Vandenbosch; Houghton University
Wisconsin – Maxwell Chibuogwu and Confidence John; University of Wisconsin-Madison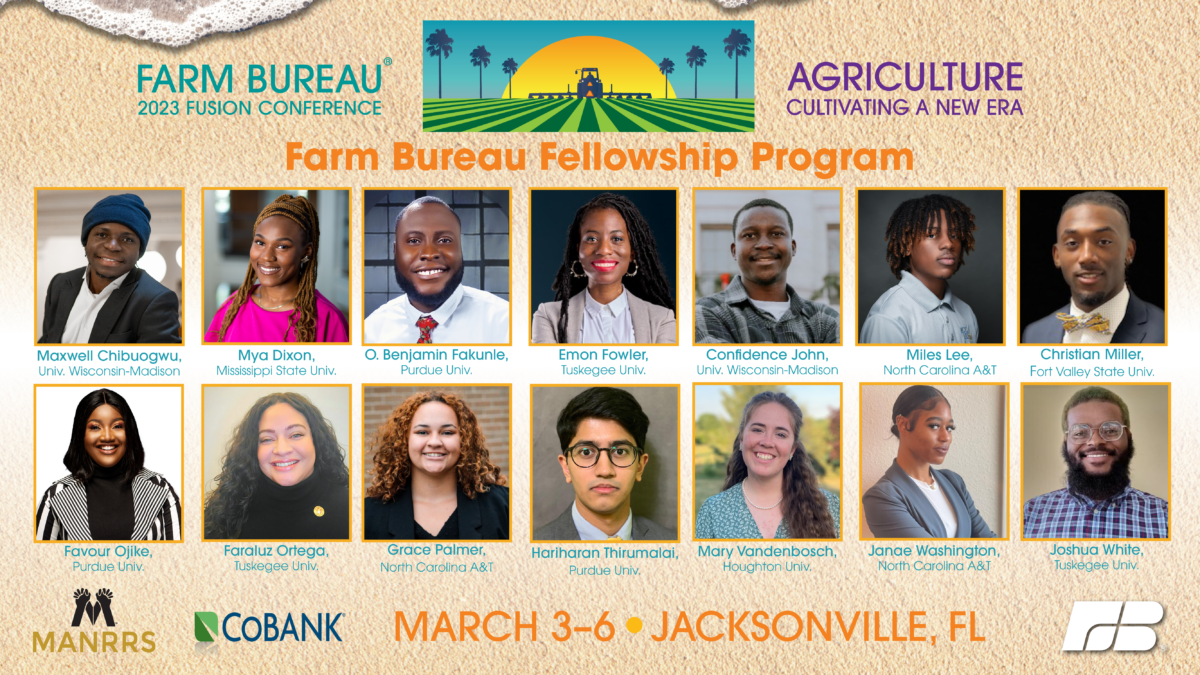 "We look forward to welcoming MANRRS students to the FUSION Conference and hope it's a great growth opportunity for them," said AFBF President Zippy Duvall. "I'm very pleased that we're able to support MANRRS students through this fellowship program and welcome them to our Farm Bureau family."
The 2023 Farm Bureau FUSION Conference, with the theme "Agriculture: Cultivating a New Era," takes place March 3-6 in Jacksonville, Florida.
"CoBank is delighted to partner with AFBF to bring the FUSION experience to the MANRRS fellows," said Brenda Frank, executive vice president, Farm Credit Banking. "Networking and learning from others is vital to the success of new farmers and ranchers and both CoBank and our Farm Credit partners are committed to supporting the next generation of leadership in agriculture."
About American Farm Bureau Federation
The American Farm Bureau Federation is the Voice of Agriculture. We are farm and ranch families working together to build a sustainable future of safe and abundant food, fiber and renewable fuel for our nation and the world.

About CoBank
CoBank is a cooperative bank serving vital industries across rural America. The bank provides loans, leases, export financing and other financial services to agribusinesses and rural power, water and communications providers in all 50 states. The bank also provides wholesale loans and other financial services to affiliated Farm Credit associations serving more than 76,000 farmers, ranchers and other rural borrowers in 23 states around the country. CoBank is a member of the Farm Credit System, a nationwide network of banks and retail lending associations chartered to support the borrowing needs of U.S. agriculture, rural infrastructure and rural communities. Headquartered outside Denver, Colorado, CoBank serves customers from regional banking centers across the U.S. and also maintains an international representative office in Singapore.

About MANRRS
MANRRS is a non-profit organization promoting academic and professional advancement by empowering minorities in agriculture, natural resources, and related sciences. MANRRS has a reach of over 8,000 students and professionals within six regions, and 70 Collegiate Chapters across 40 states and Puerto Rico.
Press Contact
Mike Tomko
Director, Communications
(202) 406-3642
miket@fb.org
Bailey Corwine
Media Relations Specialist
(202) 406-3643
baileyc@fb.org