This coming Sunday, people around the country will partake in one of the most American of rituals: gathering with friends and family to watch Super Bowl LIII (or maybe just to tune in for the commercials). Oh, and you can bet they will be eating chicken wings. Whether grilled, smoked, fried, baked, dry rubbed, tossed in hot sauce, bone in, boneless, served with ranch, served with blue cheese or even served with nothing at all, Americans love to pair wings with football. And who can blame us? It's a match made in heaven. We love pairing wings with this sports championship so much that we are projected to eat an all-time high of nearly 1.4 billion wings this weekend. That's four wings for every person in the U.S. and about 27 million more wings than we consumed for last year's Super Bowl, according to the National Chicken Council.
Because we as a country love this pairing as much as we do, the Super Bowl tends to have a significant impact on poultry markets in terms of wing demand and wing prices. Poultry production and price increases in the month leading up to the big game reflect the volume of wings consumed. One indicator of increased demand is the amount of chicken wings reported in cold storage in the lead up to the game and in the time period following. Figure 1 shows the amount of wings in cold storage, as well as Super Bowl games going back through 2004 (when the cold storage report began reporting this data). In the period leading up to a Super Bowl we consistently see a draw down in cold storage stocks of wings, with a rebound following. Of the last 14 Super Bowls, 13 saw a draw down in stocks leading up to the game, with the average depletion of supplies resulting in an 18 percent decline in cold storage supplies from the previous month.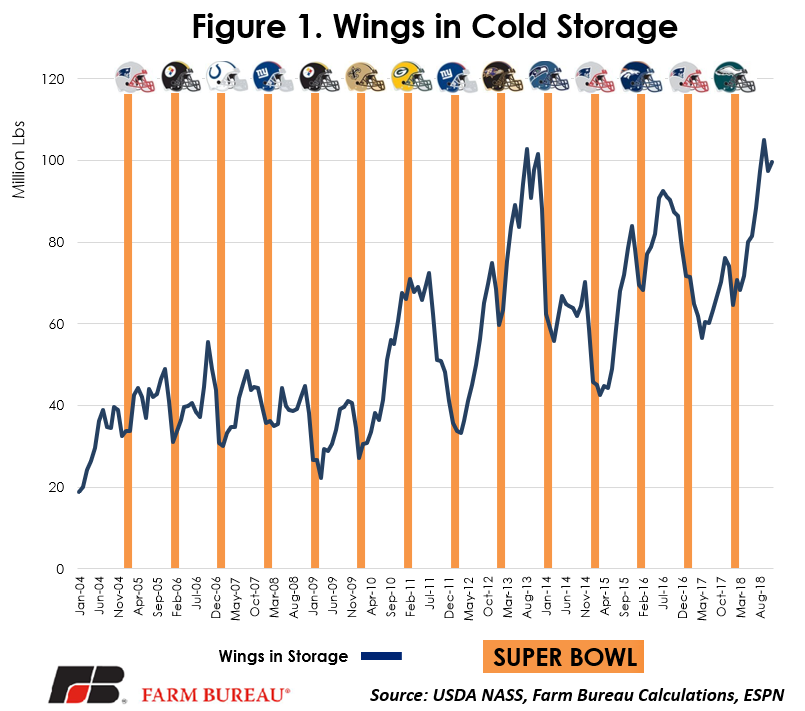 The importance of the Super Bowl is also reflected in wing prices. The first week of 2019, about four weeks out from the Super Bowl, wing prices were $1.57. The last reported price was 16 percent higher at $1.81. Prices rose last year too, although not as steeply, climbing from $1.67 in early January to $1.78 by Super Bowl weekend, a 6 percent increase. In fact, since 2000, wing prices have increased an average of 8.6 percent in the month leading up to the championship game. Figure 2 shows this price relationship on a weekly basis going as far back as 1992. The price play-by-play is similar every year: in the weeks leading up to the Super Bowl we see a run up in prices, followed by a decline in the weeks after the game.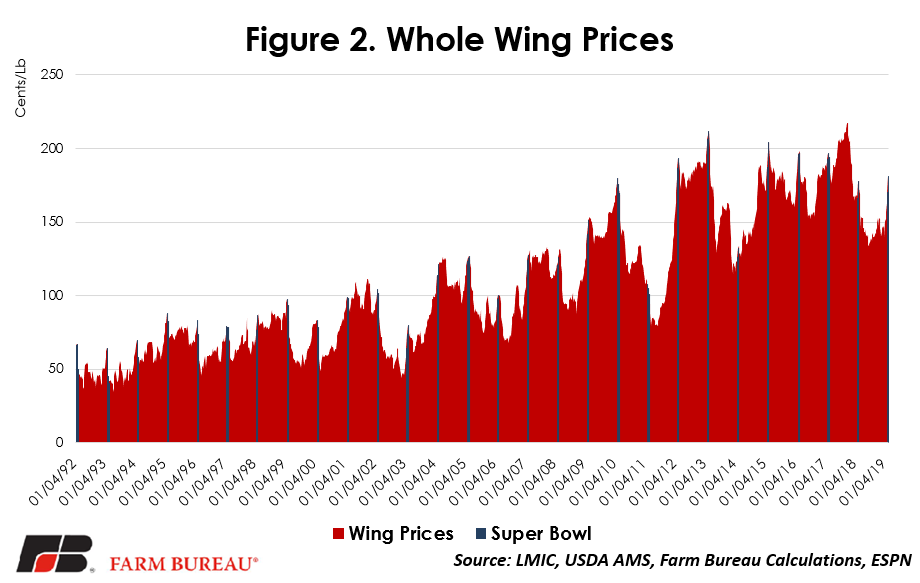 This picture is supported by other data sources as well. Oklahoma State University's monthly Food Demand Survey (discontinued last year) measured consumer willingness-to-pay around the Super Bowl period. The month of January (the month typically leading up to Super Bowl), tended to see a month-over-month increase in consumer willingness-to-pay for chicken wings. From 2014 through 2018, the life of the survey, the average month-over-month increase for January in reported willingness-to-pay was 9.5 percent.
This increased demand for wings can also create a supply issue for other poultry items, as production is pushed beyond normal to meet Super Bowl demand. The rest of the bird isn't as in demand as wings are, so there tends to be an oversupply of other poultry cuts. Boneless wings and chicken strips can help, but the Super Bowl can throw off the supply side of the chicken market.
Whether you're a Patriots or a Rams fan, if you're watching for the gridiron action or the commercials, or if you're boycotting the game because of blown calls, we can all agree that chicken wings and football are about as American as it gets. So much so that there is even a petition to get the Monday after the Super Bowl declared as a national holiday.