On May 19, USDA unveiled the details of the Coronavirus Food Assistance Program, created in the Coronavirus Aid, Relief, and Economic Security Act. CFAP provides direct payments to farmers and ranchers to partially offset COVID-19-related losses for livestock, dairy, non-specialty crops and specialty crops, e.g., Reviewing Coronavirus Food Assistance Program Details. While a large number of specialty crops were CFAP-eligible, many more were initially ineligible due to a lack of publicly available price data showing a 5% or greater price decline.
Looking for guidance to determine if CFAP should be expanded to include additional agricultural commodities or modified for already eligible commodities, USDA issued a notice of funding availability. On July 9, following the NOFA comment period, USDA announced updates to specialty crop eligibility under CFAP. This article discusses those changes.
Reviewing Specialty Crop CFAP Details
Specialty crop producers are eligible for CFAP payments if they 1) had crops that suffered a 5%-or-greater price decline on sales that occurred between mid-January and mid-April as a result of the COVID-19 pandemic; 2) had produce shipped but subsequently spoiled due to loss of marketing channel; or 3) had shipments that did not leave the farm or mature crops that remained unharvested.
Specialty crops originally eligible for CFAP assistance included almonds, apples, artichokes, asparagus, avocados, beans, blueberries, broccoli, cabbage, cantaloupe, carrots, cauliflower, celery, sweet corn, cucumbers, eggplant, garlic, grapefruit, kiwifruit, lemons, iceberg lettuce, romaine lettuce, mushrooms, dry onions, green onions, oranges, papaya, peaches, pears, pecans, bell-type peppers, other peppers, potatoes, raspberries, rhubarb, spinach, squash, strawberries, sweet potatoes, tangerines, taro, tomatoes, walnuts and watermelons.
Depending on the crop and loss type, payment rates ranged from $0.01 per pound for dry onions to $1.45 per pound for raspberries. Producers will receive 80% of this CFAP payment in one lump sum. Figures 1 and 2 show the payment rates for specialty crops and associated category type as first announced by USDA.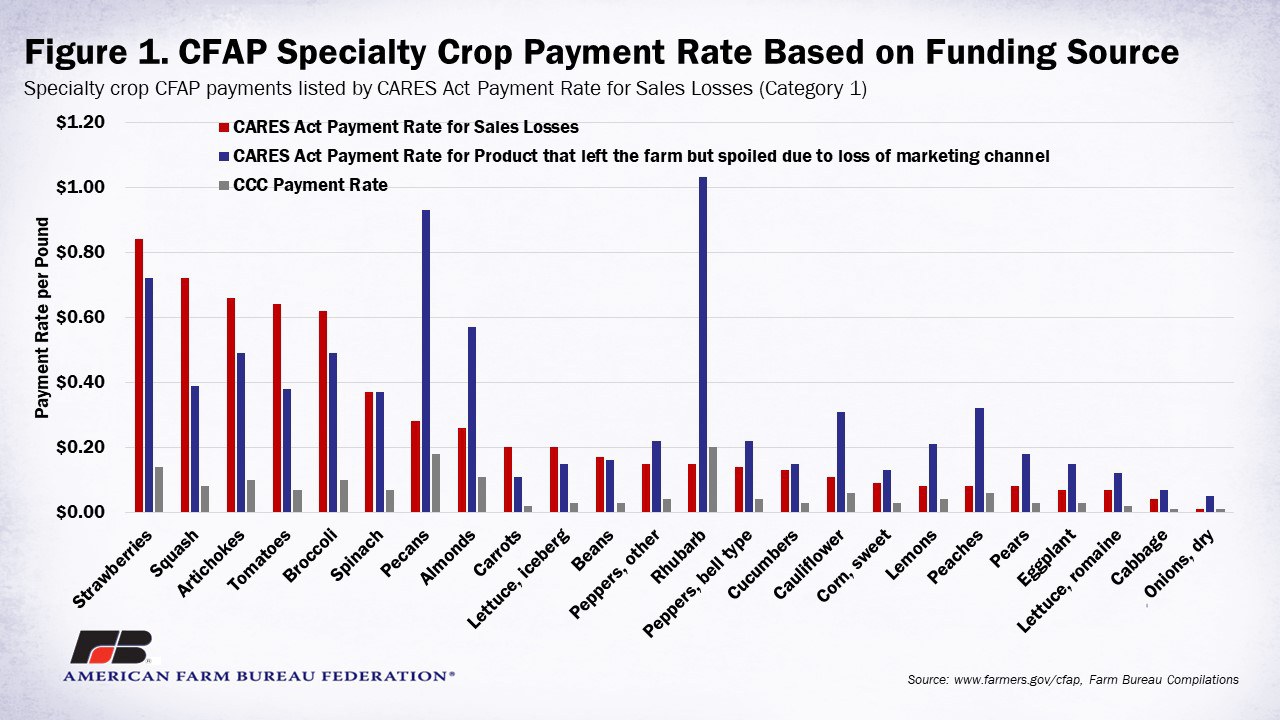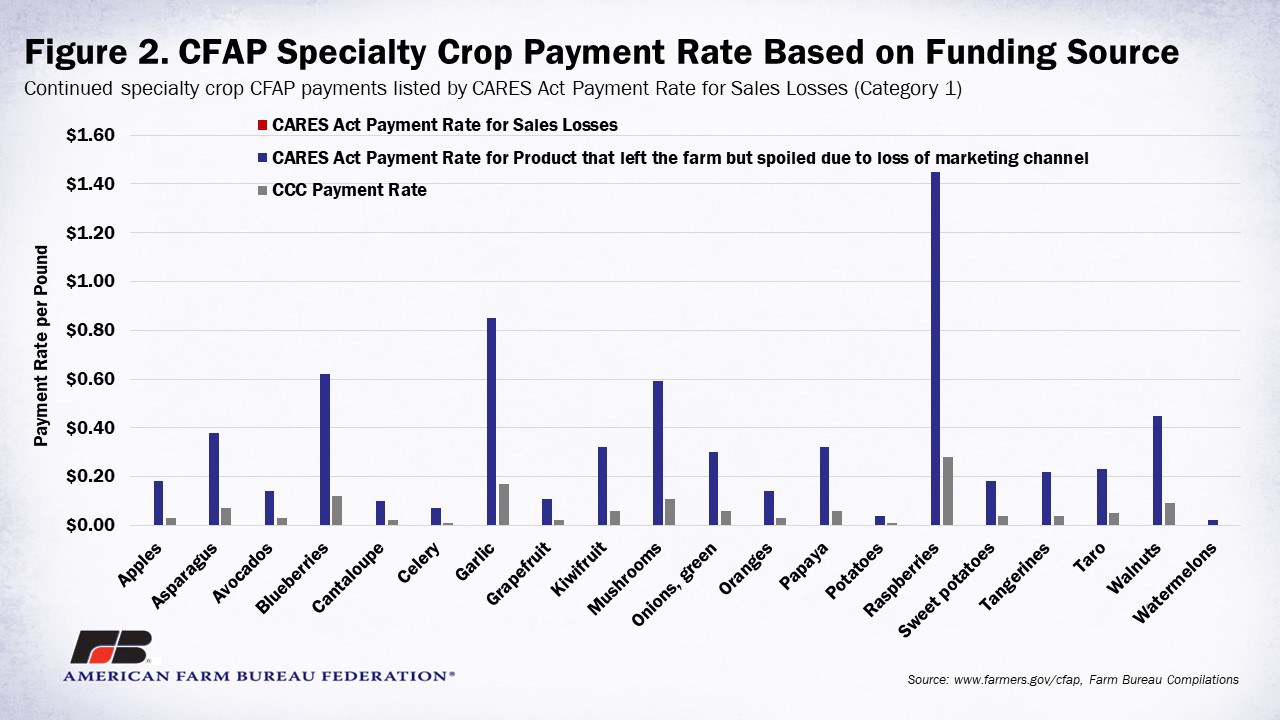 Updated CFAP Details for Specialty Crops
USDA's expansion of CFAP eligibility for specialty crops adds 42 commodities to the program: alfalfa sprouts, anise, arugula, basil, bean sprouts, beets, blackberries, Brussels sprouts, celeriac/celery root, chives, cilantro, coconut, collard greens, dandelion greens, other greens not listed, guava, kale greens, Boston lettuce, green leaf lettuce, Lolla Rossa lettuce, green oak leaf lettuce, red oak leaf lettuce, red leaf lettuce, marjoram, mint, mustard, okra, oregano, parsnips, passion fruit, green peas, pineapples, pistachios, radicchio, rosemary, sage, savory, sorrel, table sugarcane, swiss chard, thyme and turnip top greens. Figure 3 shows the newly eligible specialty crops and associated payment rates.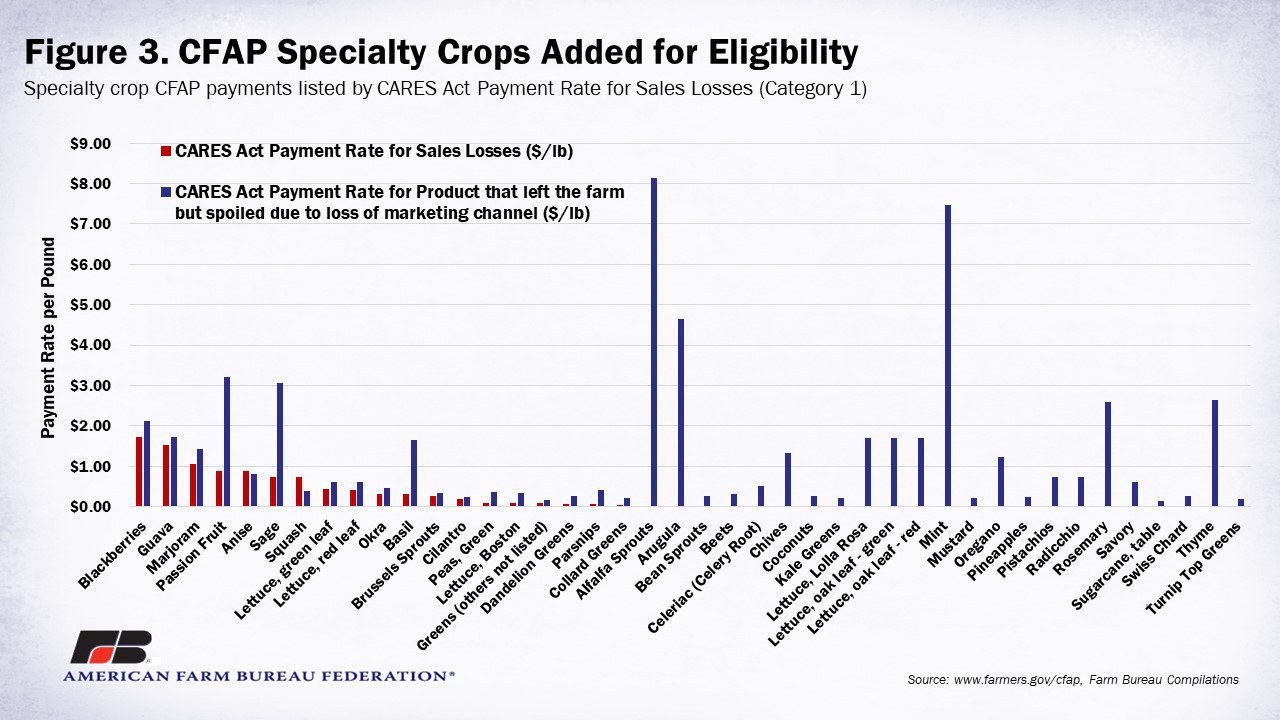 With the expansion of the program, the NOFA comments also influenced USDA to amend the payment rates for 19 commodities that were included in the initial CFAP rollout. Those commodities include apples, artichokes, asparagus, blueberries, cantaloupe, cucumbers, garlic, kiwifruit, mushrooms, papaya, peaches, fresh russet potatoes, fresh other potatoes, processed potatoes, potatoes seeds, raspberries, rhubarb, tangerines and taro. Potatoes were divided into fresh russets, other fresh, processing and seed, then payment rates were applied accordingly. USDA determined that peaches and rhubarb no longer qualify for payment under the CARES Act sales loss category, Category 1. Figure 4 shows the change from the original payment rates announced in May to the updated details as of July 10.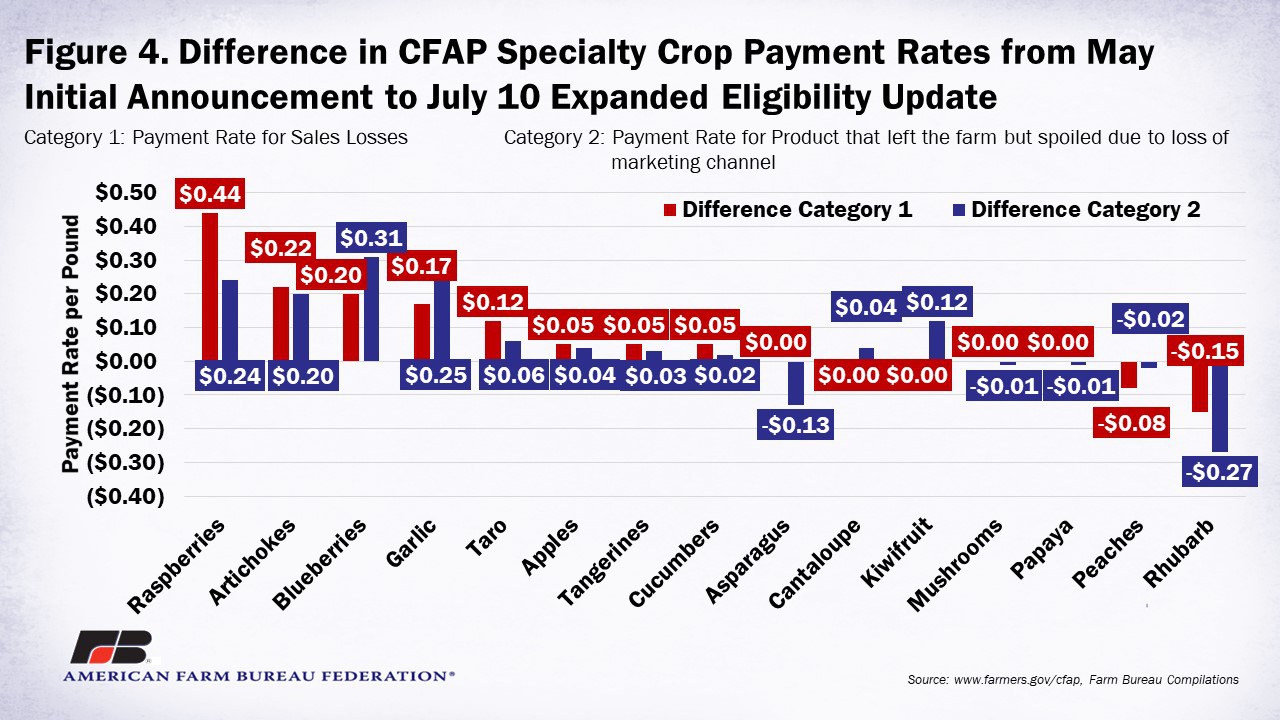 The final change USDA made in the CFAP update for specialty crops includes a Commodity Credit Corporation payment rate based on acres, rather than pounds. For Category 3 funding, payments are made for crop shipments that did not leave the farm by April 15, 2020, such as those that were harvested but left sitting in crates on the farm. Payments can also be made for crops that were donated or for mature crops that were unharvested by April 15, 2020, crops that had to be plowed under due to lack of buyers, or crops that have not been and will not be sold. Figure 5 shows the updated payment rate per acre each specialty crop is eligible to receive.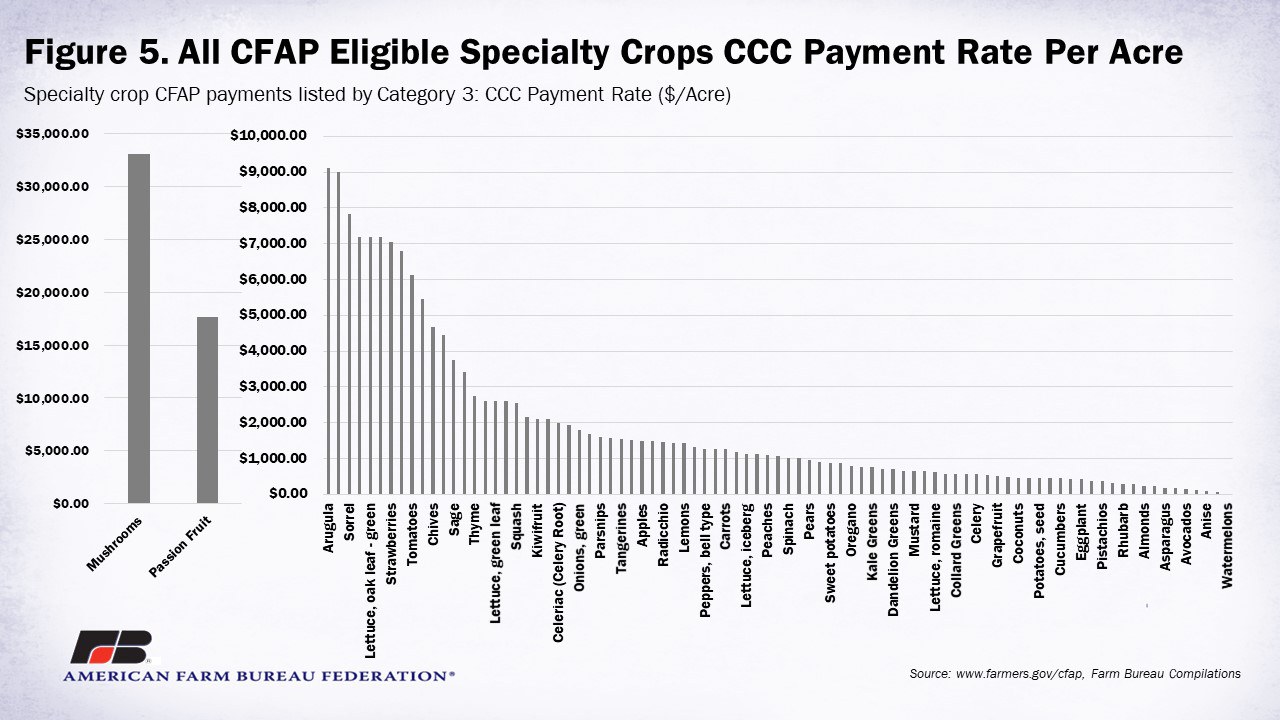 Summary
USDA has expanded eligibility of CFAP direct assistance to 42 more specialty crops and has amended eligibility for 19 others. While these adjustments assist producers of those crops in managing the volatility that has occurred because of COVID-19, other commodities, including nursery, horticulture, aquaculture and certain livestock, are still not addressed in any kind of COVID-19 assistance.
USDA will begin accepting applications for the expanded specialty crop commodities on July 13. If a producer submitted a CFAP application for a previously ineligible commodity and the application was rejected, the producer must submit a new CFAP application. If the producer submitted an application and was paid for CFAP but also has crops that are now considered eligible or are now eligible for CARES Act funding for sales losses, the producer should not submit a new application, but instead contact the local Farm Service Agency office to amend the application. When requested, producers must provide supporting documentation to help verify claims. Consult USDA's CFAP Payments for Specialty Crops page to find each eligible specialty crop and its qualified loss category payment rate.
For producers who have already applied for CFAP and whose commodities have experienced payment rate increases, FSA will automatically calculate the increase and issue a payment. For potato payments, producers will need to contact FSA to amend the application to identify the specific type of potatoes. Producers who have already applied will not be impacted by a payment rate decrease. Sign-up for the CFAP program runs through August 28.