A recent Farm Bureau analysis on the Bureau of Labor Statistics' latest jobs report pointed out that while the report suggested a strong economy, there were many things about the coronavirus outbreak that could change U.S. economic performance, i.e., Strong February Jobs Report Belies Economic Effects of COVID-19.
The employment survey, conducted the week of February 12, did not incorporate any real effects of the virus on the economy. According to the report, the leisure and hospitality sector – the focus of this article – gained 51,000 jobs from January to February. With nearly 17 million jobs, the leisure and hospitality sector is the fifth-largest employment sector in the U.S.– representing 11% of U.S. employment. In a matter of weeks, millions of people in that sector were pushed out of a job because of self-distancing guidelines, travel restrictions, the closing of bars and amusement parks, and rules limiting restaurants to delivery or carry-out only.
Nearly every aspect of the American economy has taken a hit as the coronavirus pandemic takes hold in the U.S.: The equities markets have given up nearly all of the last three years' gains. Entire industries are all but locked down. Airline passenger checks by the Transportation Security Administration have dropped to levels not seen since the creation of the agency. Some suggest unemployment could climb to 20%. The leisure and hospitality sector, suffering blow after blow since the outset of the global pandemic, is a good predictor of what we will likely see over the next few weeks and months.
Overall, 152,544,000 people had off-farm jobs in February 2020. Broken into major categories, the distribution of those employees looked like the following: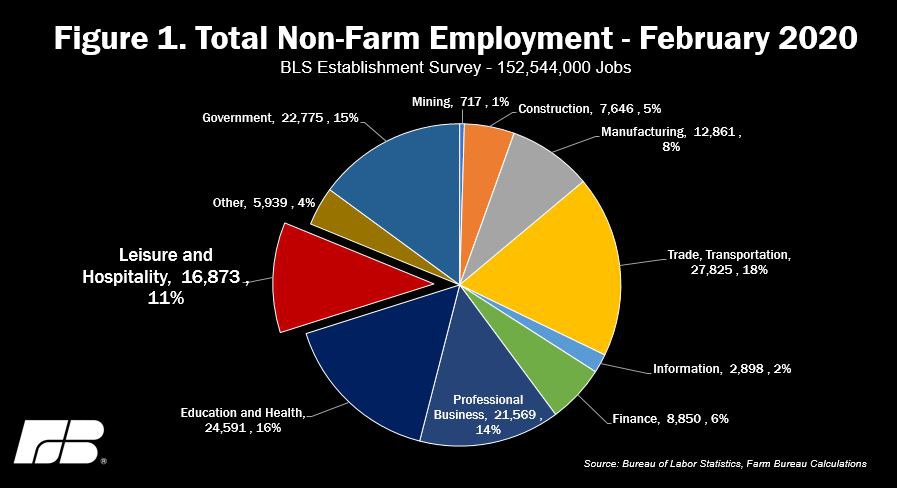 The tiny sliver at top of the pie is mining, followed clockwise by construction, manufacturing, trade, transportation, and utilities (this includes wholesale trade, retail trade, transportation and warehousing). Next is the information sector, financial activities, then professional business services. Education and health is another big piece of the pie, with leisure and hospitality next. Other services and government – federal, state, and local – close out the pie.
Turning to the leisure and hospitality industry, the foodservice sector has the most employees by far. Out of 16.9 million employed in the industry, over 12 million are in food service alone. If we remove food service from the leisure and hospitality industry, we see the following: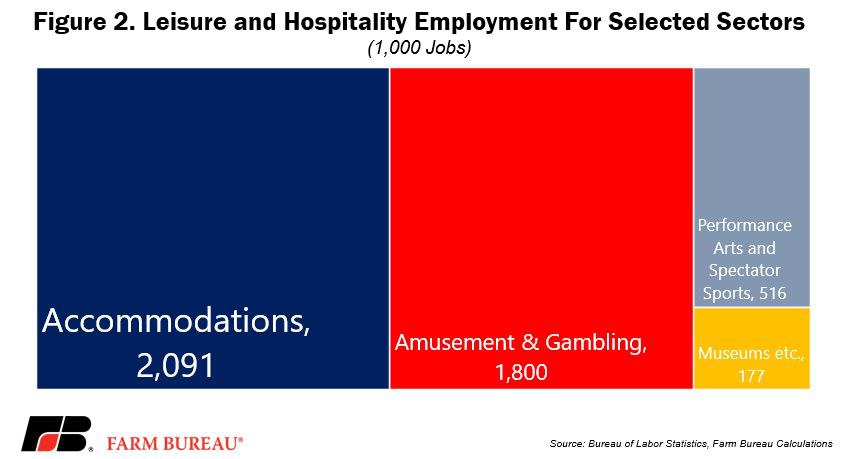 Impact By Sector
Hotels may not be completely closed, but it's likely nearly half of their employees are out of work. Amusement parks are closed. Our niece's second internship at Disney World abruptly ended when she and her fellow interns were told earlier this week to pack their bags and head home. We have all watched reports on the evening news of casinos in Las Vegas locking their doors. Whether Disney World for the young or the adult version in the desert, the whole leisure and hospitality industry will likely see hundreds of thousands out of a job for the next few weeks, at least.
The NBA, NHL, MLB and PGA, among others, have all delayed play – at best. Broadway shows are dark. You don't need ushers or someone to work concession stands when the stadium, arena, ballpark or theater is empty. Museums are also shuttered. Out of the more than 4 million people employed in these categories, there may well be over a million without a paycheck coming in for the next few weeks.
And now, we turn to food and drink. Bars in a number of states are closed. Data at this level lags a month, so at best we can talk about the 394,000 people who worked in bars in January. Some are hopefully filling take-out orders, but with as many as half of these workers staying home, that's nearly 200,000 newly unemployed Americans.
Foodservice has two main categories – full-service and limited-service. Think of it as sit-down versus fast food. January data showed full-service restaurants employed 5.6 million people. Not all of those people are on the street – or on their couch - but why have a floor staff if the floor is closed? Why have a busboy if there are no tables to clean? If only a quarter of these employees are now out of work, this amounts to 1.4 million. The limited-service food industry employed nearly 4.6 million in January. Given that nearly all of these staff are behind the counter to begin with, limited-service employment may not be hit as hard as regular restaurant employees, but a few hundred thousand will likely be touched by demand shrinkage alone.
Combining food service and accommodations puts us at over 2 million – even 3 million - slots emptied from the leisure and hospitality industry alone in a mere few weeks. If you take out grocery store trade, hardware stores and a few other subsectors, the retail component of the U.S. economy has around 5 million positions at risk. Again, one would suspect a few hundred thousand jobs lost here already.
Parsing on through the list, one could quickly come up with an initial estimate of well over 5 million who will be without a paycheck for the last half of March – at least.
One of the challenges – like we faced in the February jobs report – is the time of the data collection. The survey is collected the week of the 12th. On March 12 there were 1,625 reported COVID-19 cases in the U.S. As of March 19 the figure is 11,699. It will be tough for the Bureau of Labor Statistics to keep up.