The Securities and Exchange Commission has proposed a rule, "The Enhancement and Standardization of Climate Related Disclosures for Investors", mandating extensive climate disclosures by public companies, including measured impacts for their entire supply chain. For many of the farmers and ranchers who feed, fuel and clothe America and much of the world, the impact of this rule could be severe. The agriculture sector provides nearly every raw product that goes into the supply chain, with a valued contribution of over $1 trillion to the U.S gross domestic product in 2020 and employing over 21 million people. While farmers and ranchers are not public companies and therefore not "registrants" that are required to report directly to the SEC, their obligations through their regulated customers could be enormous.
The proposed rule's expansive reporting requirements for Scope 3 greenhouse gas emissions not only directly affects farmers' and ranchers' operations, but could create several substantial costs and liabilities, such as reporting obligations, technical challenges, significant financial and operational disruption and the risk of financially crippling legal liabilities. Ultimately, the rule could have meaningful consequences for farmers' and ranchers' ability to produce food, fuel and fiber for the U.S. and the globe and puts in jeopardy the security and stability of the U.S. supply chain.
Background
On March 21, 2022, the Securities and Exchange Commission proposed a rule that would require registrants, which are companies that register with the SEC, to include certain climate-related disclosures in their registration statements and periodic reports, including information about climate-related risks that could impact their business, results of operations, or financial condition. In addition, certain climate-related financial statement metrics would have to be included in a note to their audited financial statements. Most notably for agriculture, the required information about climate-related risks would also require disclosure of the greenhouse gas emissions of the registrant and its entire value chain, which the SEC claims can help investors assess a registrant's exposure to such risks.
Specifically, the proposed rule requires a registrant to disclose information about its direct greenhouse gas emissions (Scope 1) and indirect emissions from purchased electricity or other forms of energy (Scope 2). In addition, a registrant would be required to disclose greenhouse gas emissions from upstream and downstream activities in its value chain (Scope 3) under many – if not most – circumstances. The SEC claims that this requirement for greenhouse gas emissions disclosures would "provide investors with information useful in decision-making as an investor assesses a registrant's exposure to, and management of, climate-related risks, and in particular transition risks."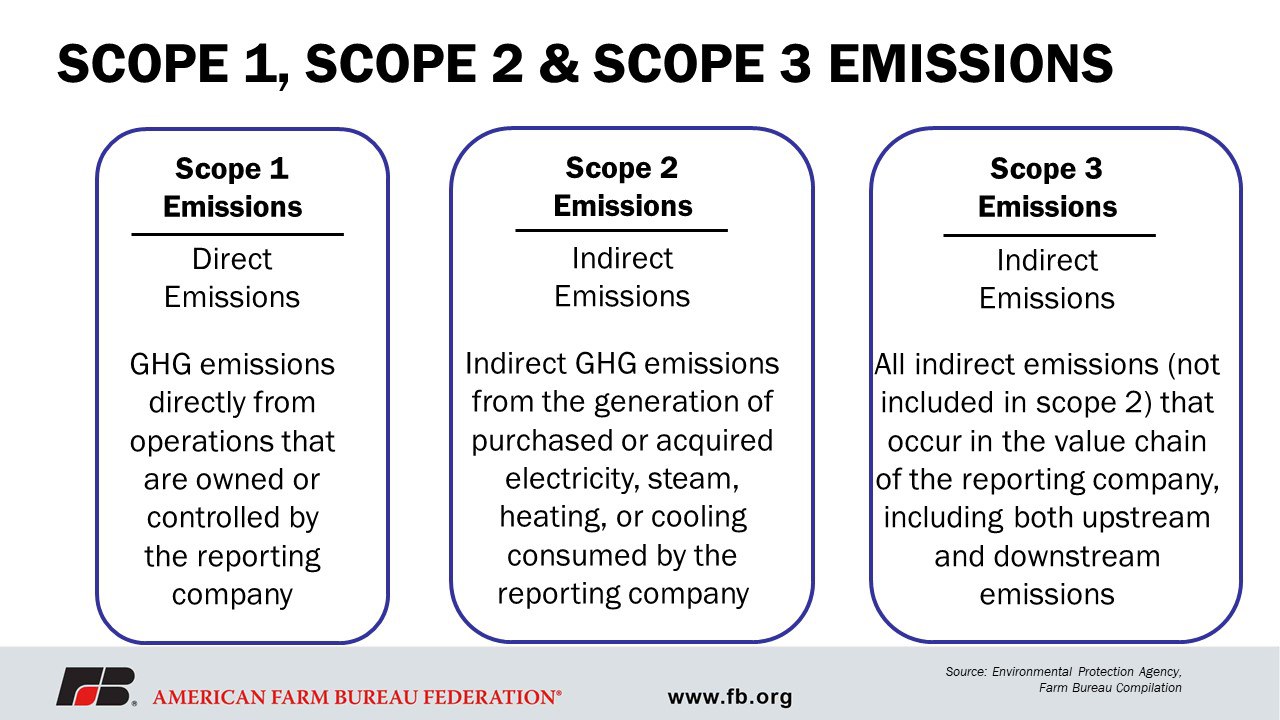 Impact on Agriculture
The SEC has a three-part mission of protecting investors, maintaining fair, orderly, and efficient markets, and facilitating capital formation. To accomplish this mission, the SEC requires companies to disclose important financial information with an accurate picture of the company's present and potential performance. The SEC's proposed climate rule is said to only apply to registrants with the SEC, meaning a company that goes public with offerings.
There are an estimated 63,485 companies listed on the SEC website with some sort of registrant reporting requirements, with industries ranging from life sciences to energy and transportation, real estate and construction, manufacturing, technology, trade and services, finance, structured finance and international corporate finance.
Looking further into the companies that are registered with the SEC, each company is classified with a specific industry title and assigned a standard industrial classification (SIC) code that indicates the company's type of business. Notably, none of the registrants listed on the SEC's website has an SIC code corresponding to agricultural production. That is, for the SIC codes titled "Agricultural Production-Crops," "Agricultural Production-Livestock & Animal Specialties," "Agricultural Services," "Forestry," and "Fishing, Hunting and Trapping," there are no reporting companies that disclose to the SEC. However, all five of these industries produce most of the raw products used by publicly traded companies and is, therefore, part of the value chain of that publicly traded company (i.e., Scope 3). For agriculture, food and forestry manufacturing alone, there are nearly 2,400 companies registered with the SEC that would be subject to reporting Scope 3 emissions from its farm suppliers.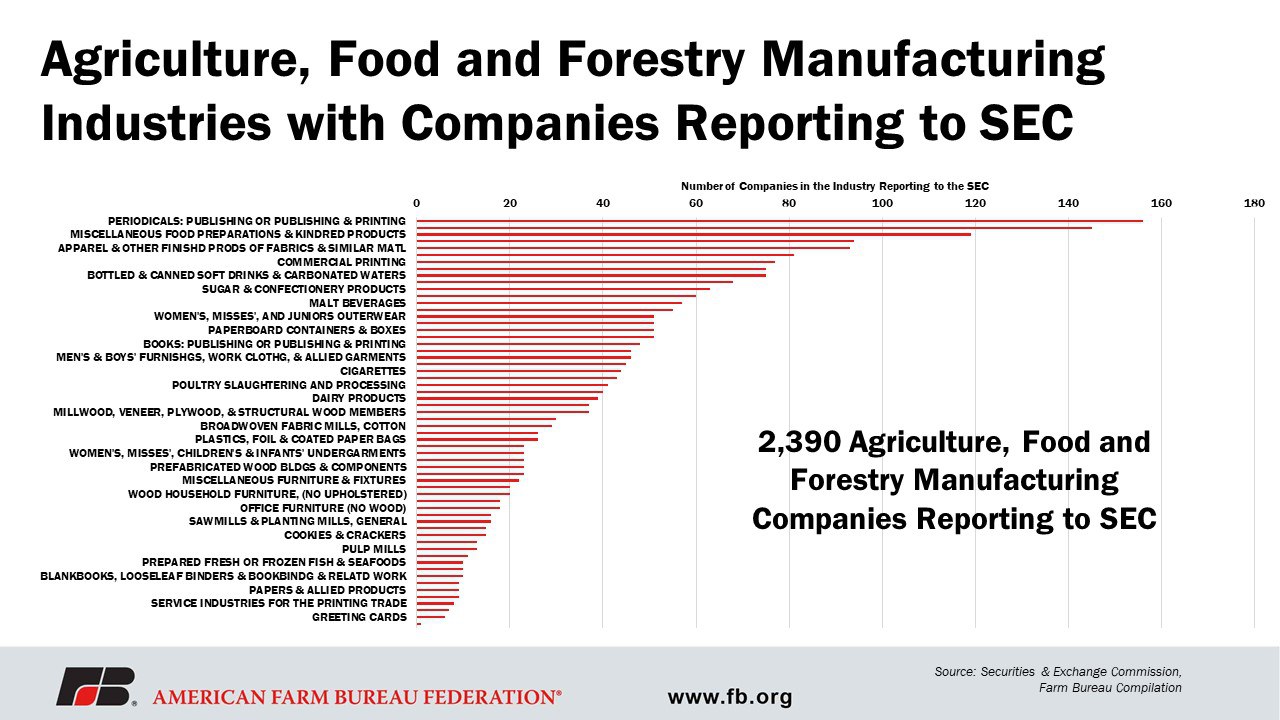 There are several potential impacts to farmers and ranchers that could result from being included in a public company's Scope 3 emissions value chain.
Compliance Concerns
For Scope 3 emissions disclosures, the proposed rule would require public companies to disclose the emissions for each significant category of their value chain, expressed in metric tons of carbon dioxide equivalent. The disclosures would further need to be disaggregated by each constituent greenhouse gas (carbon dioxide, methane, nitrous oxide, nitrogen trifluoride, hydrofluorocarbons, perfluorocarbons and sulfur hexafluoride).
For farmers to stay compliant with the companies that purchase their products downstream, this could mean producers will need to track and disclose on-farm data regarding individual operations and day-to-day activities. Unlike large corporations currently regulated by the SEC, farmers do not have teams of compliance officers or attorneys dedicated to handling SEC compliance issues. This could force farmers of all sizes, but particularly those with small and medium-sized operations, to report data they may be unable to provide, which would result in a costly additional expense or a loss of business to larger farms.
Data software packages and other business management tools may be available for farmers and ranchers to use, but the adoption rates of these tools are quite low. According to AgFunder Network, a survey of 1,490 farmers conducted by ag-tech market research company Alpha Brown in January 2018 indicated farm management software platforms are only used by 31% of farms, while the remainder of farmers still rely on pen, paper and non-computerized tools, with about 56% of those farms adding in standard software like Microsoft Excel or general accounting software.
It is important to note that farm management software is different from other precision agriculture products that many farmers utilize to be more efficient and sustainable. Farm management software tools are used for the overall operation and production management activities. In contrast, precision agricultural information technologies are primarily tools used directly in farm production, the three most common being GPS guidance systems, GPS yield and soil monitors/maps, and variable-rate input application technologies.
Slow adoption rates of farm management software have primarily been attributed to the lack of rural broadband connectivity and the increased costs associated with the tools. Additionally, many agribusinesses that farmers and ranchers do business with, for example the grain facility that a farmer would deliver their products to, are still using paper receipts that a farmer would need to maintain as records for tax and business purposes. Not to mention, this SEC rule as proposed has the potential to require very detailed information from each farm that is not captured anywhere else, down to how many gallons of fuel are put into each piece of machinery and each machine's emissions.
Privacy Concerns
In addition to the massive amount of business data this SEC rule could potentially ask of farmers and ranchers, there is also the issue of data privacy, particularly personal identifying information. Unlike public companies and corporations, farmers work and raise families in their place of business. There are many questions about how their privacy will be protected.
Researchers point out that the use of agricultural data analytics "can be used as a form of manipulative power to initiate cheap land grabs and acquisitions" and could even pressure "farmers into situations they would not have otherwise chosen." Above all, many academics raise the concern that access to this kind of data could "force farmers into precarious and vulnerable positions." Specifically, farmers and ranchers could be pitted against each other based on each one's willingness to share data that would put one farmer at a competitive advantage over the other.
A 2016 AFBF survey showed 77% of farmers are "concerned" or "extremely concerned" about the entities that can access the data generated by new precision technology on-farm machinery and whether the information could be used for regulatory purposes. A similar survey in 2014 had the figure at 78%. This proposed rule compounds that concern. Of those surveyed, 61% shared concern that data could be used by companies or individuals to influence their decisions in the marketplace.
Past court cases, like American Farm Bureau Federation v. EPA, 836 F.3d 963 (8th Cir. 2016), have held that the public disclosure of farmers' personal information constitutes a "substantial" and "clearly unwarranted invasion of privacy." As such, farm and ranch data should continue to remain protected from any disclosures, directly or indirectly, in a company's public filings.
Pushing Small Producers Out
The concern of onerous reporting requirements is not only an issue in regard to disclosing private data and having to find ways to comply with burdensome reporting. It could also disqualify small, family-owned farms from doing business with companies that procure the products grown on that farm. This could lead to more consolidation in agriculture.
If a farmer or rancher is not able to provide the necessary data and information required by the SEC registrant who now has to disclose their Scope 3 emissions, this registrant could be forced to look elsewhere to purchase its raw inputs from an entity that has that information. This search for supply could push small and medium-sized farmers out of business and force companies to look for food products outside of the United States, adding additional costs to food and limiting food availability.
Potential Liability Implications
A major flaw with the proposed rule is its the arbitrary standard for materiality of Scope 3 emissions. While the draft rule does not set a standard, quantitative threshold for determining materiality, it does suggest that if a company's Scope 3 emissions constitute at least 40% of a company's total greenhouse gas emissions, then such emissions might be material. Of note, in TSC Industries v. Northway, Supreme Court Justice Thurgood Marshall held that an item is material if there is a substantial likelihood that a reasonable investor would consider the information important in deciding how to vote or make an investment decision.
This is all to say that the proposed SEC climate rule could potentially add liability to farmers and ranchers in which their activities could be considered material in a reporting company's financial disclosures. The additional issue of this, too, is that the quantification of Scope 3 emissions, and agricultural emissions at that, lack accuracy and consistency. Not to mention the time period proposed in the rule to comply with Scope 3 emissions reporting, within the next three years, is effectively unattainable.
One of the few ways to quantify Scope 3 emissions is through modeling, which can be wildly unreliable and varies across academic and scientific institutions. The other possibility for monitoring Scope 3 emissions would be through direct monitoring and third-party auditors, which brings another layer of liability to on-farm activities in regard to privacy or the potential liability of injury. As farmers and ranchers already comply with an expansive regulatory regime, these audits would be yet another layer of mandated regulation that potentially includes more regulators coming to farms and ranches to monitor day-to-day activities.
Overreach Past Congress
As mentioned above, farmers and ranchers already comply with expansive legislative and regulatory directives that exist at the local, state and federal levels. The SEC's proposed rule seeks to further extend regulatory burdens on farmers and ranchers, all while lacking appropriate statutory authority. In fact, Congress has been very clear that agencies may not require mandatory reporting of greenhouse gas emissions from livestock.
The SEC has exceeded its area of regulatory authority and is seeking to regulate industries that have never been under the SEC's jurisdiction in an apparent attempt to regulate climate activities.
Summary
The SEC's primary purpose is to enforce the law against market manipulation and fraud. However, this rule moves well beyond its traditional regulatory authority by mandating climate change reporting requirements that will not only regulate publicly traded companies, but will impact every company in the value chain. More importantly, this rule could require public companies to force farmers and ranchers to report personal information and business-related data, raising serious privacy concerns. In this capacity, the SEC would be granted unprecedented jurisdiction over America's farms and ranches, potentially creating onerous compliance requirements for even small farms and ranches with few or no employees.
The SEC proposed rule is 510 pages long, with 1,068 technical footnotes and 750 direct questions, but the SEC has only given farmers 39 days for review, with public comments due May 20, 2022. The rule suggests that an individual farm could face significant costs in monitoring and reporting and asks for additional information in comments; but even the most basic analysis will require additional time.
Significant comments and potential challenges to the proposal could delay adoption of final rules but too many uncertainties remain.
Farmers and ranchers have never been subjected to SEC oversight and, in fact, no company involved in agricultural production for crops or livestock is a registrant with the SEC. Unlike the large corporations the SEC presently regulates, family farms and ranches do not have teams of compliance officers or access to the financial resources compliance would require. Farmers and ranchers have been on the forefront of climate mitigation efforts from the very beginning, working on conservation stewardship efforts and decreasing their greenhouse gas emissions through voluntary efforts. This rule could undermine that progress and force mandates that could eliminate many farms and ranches.
Update: On May 9, 2022, the SEC announced an extension of the public comment period for the proposed rulemaking on climate-related disclosures until June 17, 2022.
Action Alert
Through AFBF's Action Alert, farmers and ranchers can tell the SEC and members of Congress how this proposed rule will affect them. Access the Action Alert below.