Sign-ups are well underway for farmers and ranchers seeking financial assistance provided through USDA's Coronavirus Food Assistance Program, created under the Coronavirus Aid, Relief, and Economic Security Act. As of mid-June, nearly $3 billion has been delivered to livestock, dairy, non-specialty crop and specialty crop producers.
Along with CFAP, the CARES Act provided $300 million for direct assistance to marine fisheries that have been negatively impacted by COVID-19, e.g., commercial fishing businesses, charter/for-hire fishing businesses, qualified aquaculture operations, processors and other fishery-related businesses. This article reviews the provisions outlined in Sec. 12005 of the CARES Act and by the Commerce Department's National Oceanic and Atmospheric Administration, which will be distributing the funds.
Eligibility
NOAA will award monies for fisheries to its partners within the interstate marine fisheries commissions, as well as Puerto Rico and the U.S. Virgin Islands. The interstate commissions will be responsible to disburse funds to address direct or indirect fishery-related losses, similar to block-grant-style applications and approvals.
Each state is allocated a specific amount of the $300 million to distribute to fisheries that have incurred a 35% economic revenue loss or negative impacts to subsistence, cultural or ceremonial fisheries.
Fishery participants eligible for funding include tribes, commercial fishing businesses, charter/for-hire fishing businesses, qualified aquaculture operations, processors and other fishery-related businesses. Businesses that are considered further down the supply chain, including restaurants and seafood retailers, are not considered "fishery-related businesses." State marine fisheries management agencies will be the primary contact to assist participants in applying for funds and can opt to process payments themselves upon NOAA's approval of the state's spending plan.
Funding
NOAA Fisheries determined state/territory eligibility for Sec. 12005 funds using multi-year revenue averages to estimate the total average annual revenues from commercial fishing operations, aquaculture firms, the seafood supply chain (processors, dealers, wholesalers and distributors) and charter fishing businesses from each coastal state, Tribe and territory. Figure 1 highlights states eligible to receive Sec. 12005 funds and how much funding is expected.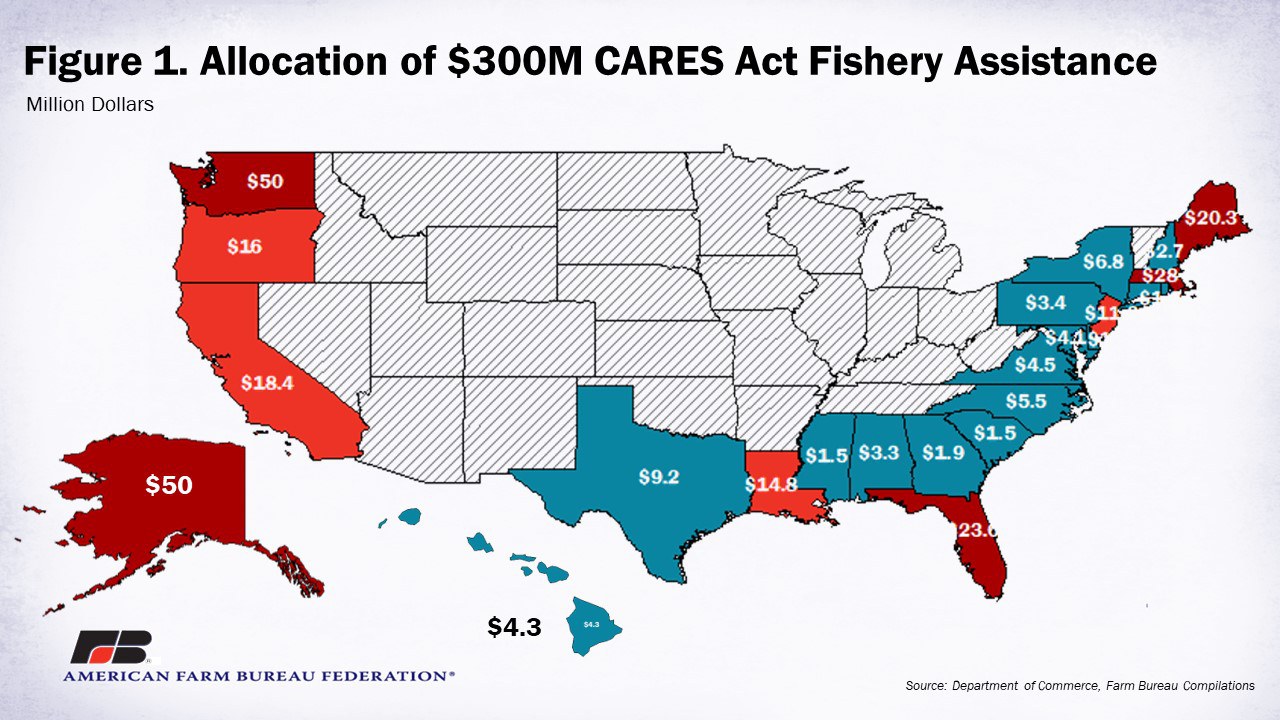 The proportion of revenues from each fishery sector that contributes to the overall total revenues was weighted to determine the allocated monies. States are not obligated to distribute funds based on the sector-proportion annual revenue data of all fishery sectors for each state. Figure 2 displays each state receiving funds and the percentage of total annual revenue from each sector.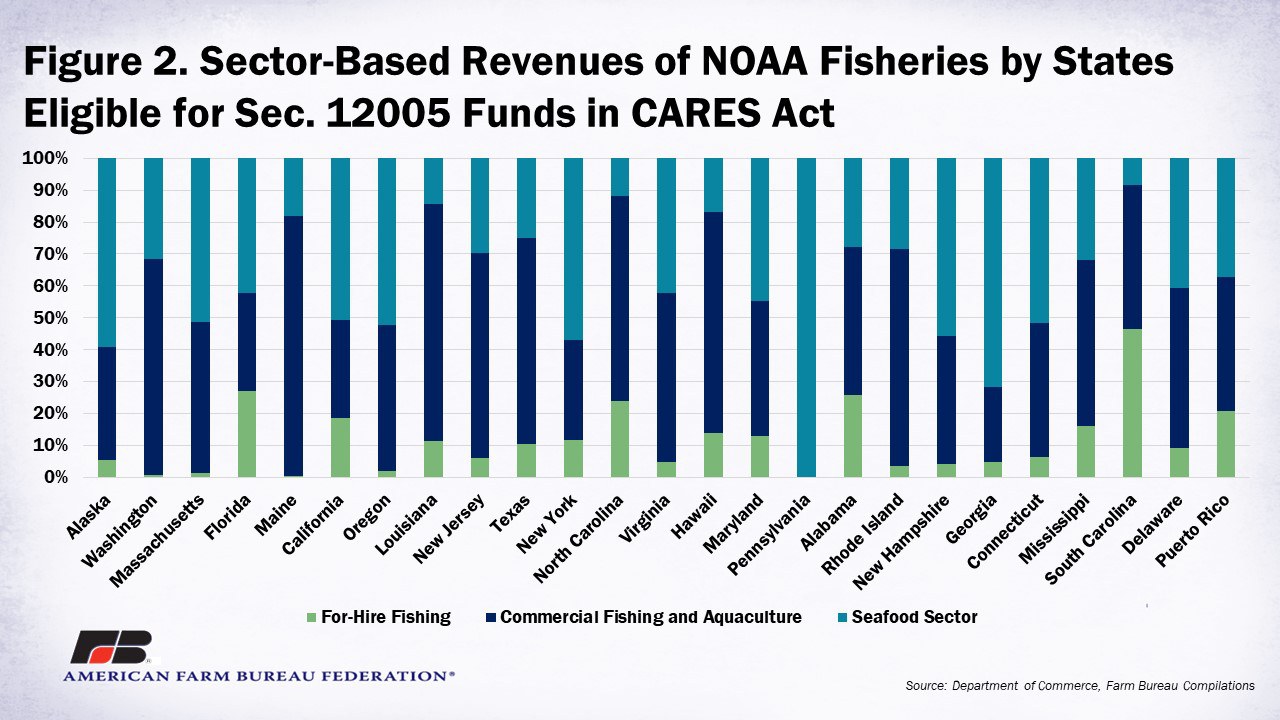 In order for fishery participants to be eligible for direct payments allocated to the state, each state must develop a spending plan that is consistent with the CARES Act and NOAA's guidance for the Sec. 12005 funds. The plan must describe the main categories for funding, including direct payments, fishery-related infrastructure and fishery-related education that address direct and indirect COVID-19 impacts to commercial fishermen, charter businesses, qualified aquaculture operations, subsistence/cultural/ceremonial users, processors and other fishery-related businesses.
No funds have been made available to the commissions or states yet. However, states should begin to coordinate with seafood dealers/processors, commercial, for-hire and marine aquaculture industries to develop spending plans. To be eligible for funding to distribute, states should draft their spending plans by mid-July for NOAA approval.
Summary
While Sec. 12005 funding assists some of the fishery and seafood industries, not all aquaculture businesses that have been negatively impacted by the COVID-19 economic fallout are eligible for this assistance. For example, inland aquaculture such as crawfish or catfish are not eligible for Commerce Department funding. Nor are they currently eligible for USDA's CFAP program. Moreover, the amount of assistance provided to each state through the Commerce Department funding may not adequately compensate marine fisheries with significant revenue losses associated with lost foodservice demand.
More assistance will likely be necessary to help aquaculture industries in other states and industries that do not qualify for assistance under the CARES Act. To provide this assistance to both salt- and fresh-water fisheries, Congress should consider allocating additional financial resources for these fisheries and aquacultural producers in the next COVID-19 relief package.